| | |
| --- | --- |
| | Sangamon Valley Woodcarvers |
---









Sangamon Valley Woodcarvers 2016 Show
Click on any image to enlarge it.


Everyone had a great time at the show this year. The Sangamon Valley Woodcarvers Club would like to thank everyone who attended the show, the sponsors, the vendors, all carvers who participated and volunteers who helped make the show possible. Thank You.



Exhibitors



Floyd Rhadigan
Named 2016 Caever of the Year.
A caricature carver who travels the
country giving seminars. We were excited to have
him as a exhibitor and a show judge.

Carl Greenwood
A retired Marine who carved
the plaque he is holding and also won
3rd place on his Devil Dog carving




Judy Mogle
An excellent chip carver who recently
delved into crafting wooden spoons.

B. David Duncan
An excellend carver who traveled
from Arkansas to participate in the show.
The 2016 Show Winners
Grand Champion
Judges Choice

Saw Whet Owl
Carved by Jim Leifield

Reserve Champiom
Judges Choice

Blue Gill
Carved by Jim Leifield
Caricature Animal Awards

1st Place
Squatch
Carved by Roy Schodtler

2nd Place
Donkey
Carved by Fred Willoughby

3rd Place
Devil Dog #1
Carved by C. I. Greenwood
Caricature Human Awards

1st place
Selfie
Carved by Bridges Dillehay

2nd place
Cowboy
Carved by Bill Kuhn

3rd Place
Ready 4 Action
Carved by C. I. Greenwood
Caricature Scene Awards

1st Place
Rte 66 Soda Shoppe
Carved by C. I. Greenwood

2nd Place
Goin To Market
Carved by C. I. Greenwood

3rd Place
Vikings
Carved by Jim Pipkin
Realistic Animal Awards

1st place
Hen
Carved by Bridges Dillehay

2nd Place
Prairie Dog Patsy
Carved by Steve Bode
Realistic Game Birds

1st Place
Pair of Pheasants
Carved by Dan Bennett

2nd Place
Cinnamon Teal
Carved by Jim Leifield

3rd Place
Buffalo Head
Carved by Jim Leifield
Realistic Raptors

1st Place
Saw Whet Owl
Carved by Jim Leifield

2nd Place
Owl
Carved by B. David Duncan

3rd Place
Roadrunner and Snake
Carved by B. David Duncan
Song Birds

1st Place
Brown Creeper
Carved by B. David Dunkan

2nd Place
Blue Bird
Carved by Jim Leifield

3rd Place
House Finch
Carved by Meg Tezlaff
Realistic Fish

1st Place
Blue Gill
Carved by Jim Leifield

2nd Place
Male Hog Fish
Carved by Terry Page
Realistic Human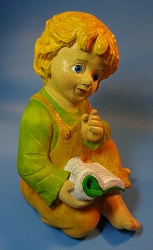 1st Place
Bare Foot Boy
Carved by C. I. Greenwood
Realistic Group Human or Animal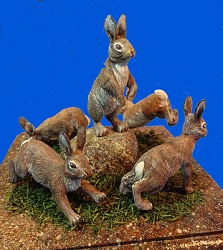 1st Place
Rabbits Ring Around
Carved by B. David Duncan
Chip Carving

1st Place
Board with Bark
Carved by Judy Mogle

2nd Place
Cane with a Duck Head
Carved by Jerry Richter

3rd Place
Cutting Board
Carved by Dave Rohe
Relief

1st Place
Totem Pole
Carved by Steve Bode

2nd Place
American Eagle
Carved by C. I. Greenwood

3rd Place
Regencies
Carved by Bridges Dillehay
Stylized

1st Place
Mom and Baby
Carved by C. I. Greenwood

2nd Place
Together
Carved by C. I. Greenwood

3rd Place
Whale and Seal
Carved by Steve Bode
Santa

1st Place
Santa and Snowman
Carved by Jim Pipkin

2nd Place
Cypress Knee Santa
Carved by Jim Pipkin

3rd Place
Santa and His Dogs
Carved by Jim Pipkin
Mythical

1st Place
Smoke Danger
Carved by Bridges Dellehay

2nd Place
Snowman
Carved by Jim Pipkin
Bark Carving

1st Place
Witch
Carved by Rick Frels

2nd Place
Bark House
Carved by Jim Pipkin
Miscellaneous

1st Place
Heart Spoon
Carved by Steve Bode

2nd Place
Frog Spoon
Carved by B. David Duncan

3rd Place
Wave
Carved by Bridges Dillehay
Woodburning

1st Place
Hawk
Carved by Bill Kuhn

2nd Place
Black Cap Chickadee
Carved by Bill Kuhn

3rd Place
Owl
Carved by Bill Kuhn
Intarsia

1st Place
Coy Fish
Carved by Jim Pipkin

2nd Place
Snowman
Carved by Jim Pipkin

3rd Place
Beagle
Carved by Jim Pipkin
Novice


1st Place
Snowman
Carved by Lizz Schwartzkopf
Roughouts

1st Place
Sleeping Santa
Carved by Meg Tetzlaff

2nd Place
Ram
Carved by Chuck Tobias

3rd Place
Boy on a Log
Carved by Tom Vehovc
Assisted Carvings or Assisted Woodburnings

1st Place
A Fall Relief
Carved by Tap Hefley

2nd Place
Wolf
Carved by Fred Willoughby

3rd Place
Sven
Carved by Bob Haley
President's Award (Open to Sangamon Valley Woodcarvers Only)

1st Place
Angel
Carved by C. I. Greenwood

2nd Place
Santa
Carved by Fred Willoughby

3rd Place
Bottle Stop
Carved by Jim Pipkin