| | |
| --- | --- |
| | Sangamon Valley Woodcarvers |
---









Sangamon Valley Woodcarvers 2015 Show
Click on any image to enlarge it.


Everyone had a great time at the show this year. The Sangamon Valley Woodcarvers Club would like to thank everyone who attended the show, the sponsors, the vendors, all carvers who participated and volunteers who helped make the show possible. Thank You.

There were some Woodturners who join the show this year.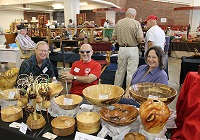 Don Davis and Michael Blankenship:
Woodturners who participated
in the show.
Wood Carvers



Dave Rowe
Club treasurer
with his grandchildren.

Bridges Dillehay
who travels from Tennessee
to be part of the show.
Seminars



Marty Leenhouts
a chip carver from Minnisota
is demonstrating his style

Tap Hefley
explaining soap carving techniques
The 2015 Show Winners
Grand Champion
Judges Choice

Bluegill with a Frog and Dragonfly
Carved by Dan Bennett
Caricature Animal Awards

1st Place Judges Award
1st Place People Award
Carved by Bridges Dillehay

2nd Place Judges Award
2nd Place People Award
Carved by Bill Kuhn
Caricature Human Awards

1st place Judges Award
1st place People Award
Carved by Bridges Dillehay

2nd place Judges Award
Carved by Mike Hartzler

2nd Place People Award
Carved by Tom Vehvoc

3rd Place Judges Award
Carved by Bill Kuhn

3rd Place People Award
Carved by Jim Pipkin
Caricature Scene Awards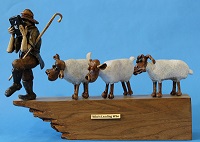 1st Place Judges Award
1st Place People Award
Carved by Bridges Dillehay
Realistic Animal Awards

1st place Judges Award
1st place Peoples Award
Carved by Bridges Dillehay

2nd Place Judges Award
2nd Place People Award
Carved by Jerry Richter

3rd Place Judges Award
3rd Place People Award
Carved by Jim Pipkin
Realistic Game Birds

1st Place Judges Award
1st Place People Award
Carved by Marvin Ford

2nd Place Judges Award
2nd Place People Award
Carved by Marvin Ford
Realistic Raptors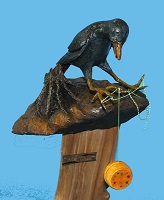 1st Place Judges Award
1st Place Peoples Award
Carved by Bridges Dillehay
Song Birds

1st Place Judges Award
1st Place People Award
Carved by Bill Kuhn

2nd Place Judges Award
2nd Place People Award
Carved by Marvin Ford

3rd Place Judges Award
3rd Place People Award
Carved by Marvin Ford
Realistic Fish

1st Place Judges Award
1st Place People Award
Carved by Dan Bennett

2nd Place Judges Award
2nd Place People Award
Carved by Terry Page

3rd Place Judges Award
3rd Place People Award
Carved by Terry Page
Realistic Human

1st Place Judges Award
1st Place People Award
Carved by Charles Sapp

2nd Place Judges Award
2nd Place People Award
Carved by Bridges Dillehay

3rd Place Judges Award
3rd Place People Award
Carved by Russell Musgrave
Realistic Group Human or Animal

1st Place Judges Award
2nd Place People Award
Carved by Don Branson

2nd Place Judges Award
1st Place People Award
Carved by Bridges Dillehay
Chip Carving

1st Place Judges Award
1st Place People Award
Carved by Jerry Richter

2nd Place Judges Award
2nd Place People Award
Carved by Dave Rohe

3rd Place Judges Award
3rd Place People Award
Carved by Dave Rohe
Relief

1st Place Judges Award
1st Place People Award
Carved by Bridges Dillehay

2nd Place Judges Award
3rd Place People Award
Carved by Ann Wolter

3rd Place Judges Aware
2nd Place Peoples Award
Carved by Russell Musgrave
Stylized

1st Place Judges Award
Carved by Carl Greenwood

2nd Place Judges Award
2nd Place People Award
Carved by Carl Greenwood

3rd Place Judges Award
1st Place People Award
Carved by Carl Greenwood

3rd Place People Award
Carved by Bridges Dillehay
Santa

1st Place Judges Award
1st Place People Award
Carved by Rick Frels

2nd Place Judges Award
2nd Place People Award
Carved by Jim Pipkin

3rd Place Judges Award
3rd Place People Award
Carved by Mike Hartzler
Mythical

1st Place Judges Award
2nd Place People Award
Carved by Jim Pipkin

2nd Place Judges Award
1st Place People Award
Carved by Bridges Dillehay

3rd Place Judges Award
Carved by Jim Pipkin

3rd Place People Award
Carved by Carl Greenwood
Bark Carving

1st Place Judges Award
2nd Place People Award
Carved by Rick Frels

2nd Place Judges Award
1st Place People Award
Carved by Mike Hartzler

3rd Place Judges Award
Carved by Dan Bennett

3rd Place People Award
Carved by Jim Pipkin
Miscellaneous

1st Place Judges Award
1st Place People Award
Carved by Bridges Dillehay

2nd Place Judges Award
2nd Place People Award
Carved by Carl Greenwood

3rd Place Judges Award
3rd Place People Award
Carved by Bill Rice
Woodburning

1st Place Judges Award
1st Place People Award
Carved by Bill Kuhn

2nd Place Judges Award
2nd Place People Award
Carved by Bill Kuhn

3rd Place Judges Award
3rd Place People Award
Carved by Norm Koerner
Intarsia

1st Place Judges Award
1st Place People Award
Carved by Jim Pipkin

2nd Place Judges Award
2nd Place People Award
Carved by Carl Greenwood

3rd Place Judges Award
Carved by Jim Pipkin

3rd Place People Award
Carved by Jim Pipkin
Assisted Carvings or Assisted Woodburnings

1st Place Judges Award
Carved by Fred Willoughby

2nd Place Judges Award
Carved by Jean Maruska
President's Award (Open to Sangamon Valley Woodcarvers Only)

1st Place Judges Award
Carved by Carl Greenwood

2nd Place Judges Award
Carved by Jim Pipkin

3rd Place Judges Award
Carved by Fred Willoughby