| | |
| --- | --- |
| | Sangamon Valley Woodcarvers |
---









Sangamon Valley Woodcarvers 2013 Show
Click on any image to enlarge it.


The show was a great success this year and the Sangamon Valley Woodcarvers Club would like to thank everyone who attended the show, the sponsors, the vendors, all carvers who participated and volunteers who helped make the show possible. Thank You.

This year the we wanted to remember deceased members. Here are carvings of 3 of these members.
| | | |
| --- | --- | --- |
| George Ginger | Tim Sullivan | Tom Stone |
Others were: John Furry, Dean Bunger, Glen Burdinski, Art Stevens, Jim Flynn,
Bob Christinsen, Raliegh Bagby, John Carson, Pete Klein, Bob Jones & Lloyd Webb


Here are some carvers displaying their art.



Judy Mogle
This years Grand Champion winner

Fred & Marlene Willloughby

John Sutton

Willy Merrick
With his hand carved chain

Mel & Ruth Donaho
From Arizona

Charlie Sapp
From St Charles, Mo
Seminars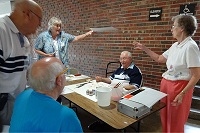 Painting
With Mel and Ruth Donaho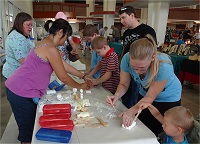 Soap Carving
With Tap Hefley and
Sandy Erickson
The Chain Saw Carver

Bud Hainzinger
Expert Chainsaw Carver

A few of the chainsaw carvings
The 2013 Show Winners
Caricature Animal Awards

1st Place Judges Award
1st Place People Award
Carved by Ron Dowdy

2nd Place Judges Award
2nd Place People Award
Carved by Jim Van Duyn

3rd Place Judges Award
3rd Place People Award
Carved by Bill Kuhn
Caricature Human Awards

1st place Judges Award
1st place People Award
Carved by Ron Dowdy

2nd Place Judges Award
3rd place People Award
Carved by Ron Dowdy

2nd Place People Award
Carved by Bridges Dillehay

3rd Place Judges Award
Carved by Ron Dowdy
Caricature Scene Awards

1st Place Judges Award
1st Place People Award
Carved by Jim Van Duyn

2nd Place Judges Award
2nd Place People Award
Carved by C.I. Greenwood
Realistic Animal Awards

1st place Judges Award
3rd place Peoples Award
Carved by Bridges Dillehay

2nd Place Judges Award
2nd Place People Award
Carved by Jim Van Duyn

3rd Place Judges Award
1st Place People Award
Carved by Jim Van Duyn
Realistic Game Birds

1st Place Judges Award
1st Place People Award
Carved by Marvin Ford

2nd Place Judges Award
3rd Place Peoples Award
Carved by Marvin Ford

2nd Place People Award
Carved by Mel Donaho

3rd Place Judges Award
Carved by Jim Leifeld
Realistic Raptors

1st Place Judges Award
2nd Place Peoples Award
Carved by Melvin Donaho

2nd Place Judges Award
1st Place Peoples Award
Carved by Melvin Donaho

3rd Place Judges Award
Carved by Leonard Adams

1st Place Judges Award
2nd Place Peoples Award
Carved by Marvin Ford
Song Birds

1st Place Judges Award
Carved by Jim Leifeld

1st Place People Award
Carved by Melvin Donaho

2nd Place Judges Award
2nd Place People Award
Carved by Jim Leifeld

3rd Place Judges Award
3rd Place People Award
Carved by Bill Kuhn
Realistic Fish

1st Place Judges Award
2nd Place People Award
Carved by Bill Kuhn

2nd Place Judges Award
1st Place People Award
Carved by Terry Page
Realistic Human

1st Place Judges Award
3rd Place People Award
Carved by C.I. Greenwood

2nd Place Judges Award
1st Place People Award
Carved by Jim Van Duyn

3rd Place Judges Award
2nd Place People Award
Carved by Jim Van Duyn
Realistic Group Human or Animal

1st Place Judges Award
2nd Place People Award
Carved by Bridges Dillehay

2nd Place Judges Award
1st Place People Award
Carved by Bridges Dillehay

3rd Place Judges Award
3rd Place People Award
Carved by Gary McDonald
Chip Carving

1st Place Judges Award
1st Place People Award
Carved by Judy Mogle

2nd Place Judges Award
2nd Place People Award
Carved by Jim Van Duyn

3rd Place Judges Award
3rd Place People Award
Carved by Jim Van Duyn
Relief

1st Place Judges Award
2nd Place People Award
Carved by Jim Van Duyn

1st Place People Award
Carved by Bridges Dillehay

2nd Place Judges Award
Carved by Bridges Dillehay

3rd Place Judges Award
Carved by Jim Van Duyn

3rd Place People Award
Carved by Russell Musgrave
Stylized

1st Place Judges Award
Carved by Jim Leifeld

2nd Place Judges Award
2nd Place People Award
Carved by Bridges Dillehay

3rd Place Judges Award
1st Place People Award
Carved by Bridges Dillehay

3rd Place People Award
Carved by Bridges Dillehay
Santa

1st Place Judges Award
1st Place People Award
Carved by Ron Dowdy

2nd Place Judges Award
3rd Place People Award
Carved by Charles W. Sapp

3rd Place Judges Award
2nd Place People Award
Carved by Jim Pipkin
Mythical

1st Place Judges Award
2nd Place People Award
Carved by C.I. Greenwood

2nd Place Judges Award
1st Place People Award
Carved by Russell Musgrave

3rd Place Judges Award
3rd Place People Award
Carved by David Borg
Bark Carving

1st Place Judges Award
1st Place people Award
Carved by Dan Bennett

2nd Place Judges Award
3rd Place People Award
Carved by Dan Bennett

3rd Place Judges Award
Carved by Rick Frels

2nd Place People Award
Carved by Gary McDonald
Miscellaneous

1st Place Judges Award
2nd Place People Award
Carved by C.I. Greenwood

2nd Place Judges Award
1st Place People Award
Carved by Gary McDonald
Woodburning

1st Place Judges Award
2nd Place People Award
Carved by Bill Kuhn

2nd Place Judges Award
1st Place People Award
Carved by Dan Bennett

3rd Place Judges Award
Carved by Betty Legg

3rd Place People Award
Carved by Bill Kuhn
Intarsia

1st Place Judges Award
1st Place People Award
Carved by Jim Pipkin

2nd Place Judges Award
3rd Place People Award
Carved by C.I. Greenwood

3rd Place Judges Award
2nd Place People Award
Carved by C. I. Greenwood
Novice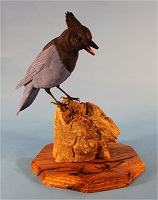 1st Place Judges Award
Carved by Ruth Donaho
Roughouts

1st Place Judges Award
Carved by Ron Dowdy

2nd Place Judges Award
Carved by Gary McDonald
Assisted Carvings or Assisted Woodburnings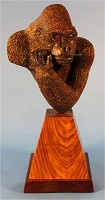 1st Place Judges Award
Carved by Fred Willoughby
President's Award (Open to Sangamon Valley Woodcarvers Only)

1st Place Judges Award
Carved by C.I. Greenwood

2nd Place Judges Award
Carved by Dave Rohe

3rd Place Judges Award
Carved by Tom Vehovc